17 Christmas Gift Ideas For That Special Woman
So earlier, I did a post on Christmas gift ideas that will help women get their gift ideas for the men in their lives flowing. This post is all about the different lovely Christmas gift ideas every man can get for that special woman in his life.
As we know, Christmas only comes once a year and it is just around the corner. Guys, have you thought of the best gift for that special woman in your life? Whether it's your wife, mother, sister or girlfriend, get her a gift that will show her how much you love, care and appreciate her this Christmas season.
The truth is that figuring out what to buy for women can be quite tricky, especially because no two women are exactly the same. However, ensure to gift her something that will make her Christmas extra special.
So, honour and appreciate that special woman or women in your life with these stylish Christmas gift ideas for her. From fragrances, scarves, beauty products, fashion accessories, jewellery, kitchen items to tech accessories you can get great gifts for that special woman in your life depending on what she really likes.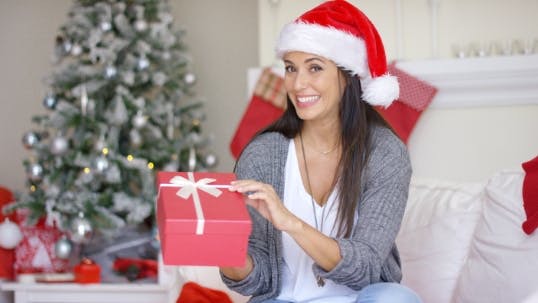 Diamond earrings
It will be a good idea to get her lovely diamond chandelier earrings to add oomph to any look. Diamond earrings will be appropriate for the woman who likes to glam it up for holiday parties. It will also be an addition to her jewellery box.
Lovely pumps
Many women love beautiful pumps. Select an elegant and exquisite stiletto pump, peep-toe pumps, or dressy pumps for her this Christmas. If you are unsure of which colour she will like, just stick to black.
Weekender Bag
If your woman is the type who loves a getaway or travel for a few days occasionally due to work, then, get her a stylish weekender bag that can hold all of her clothes, shoes, toiletries, and necessities.
Personalized gift
You can leave a lasting impression by gifting that special woman a personalized gift that she will really love and hold on to for a lifetime.
Luxury handbag
Give her a chic luxury handbag that she will be proud to carry and flaunt in style.
Jewellery
Most women love jewellery! So, there are lots of beautiful jewellery that will beautify her neck or sleek bracelets or bangles that will gorgeously accentuate any outfit she wears.
Makeup Organizer
Gift her a makeup organiser to keep her brushes, lipstick, nail polish and other cosmetics and tools in place this Christmas.
Dual travel organizer for jewellery and cosmetics
This lovely organiser is ideal to suitably store her jewellery and makeup essentials while on vacation. While the makeup essentials occupy the upper space, the jewellery takes the lower pouch.
Floral silk scarf
Get her a lovely floral silk scarf to spice up her outfit from boring to stylish.
Bracelet
If she loves bracelet, then, gift her lovely diamond link bracelet and she will cherish you for life. She will be a head-turner accentuating it with a lovely outfit at that special event.
Smart phone
If her phone has been faulty, then, surprise her with the phone of her dream.
Perfume
Who will say no to perfumes? If there is a specific perfume she's been talking about, it's the right time to surprise her with it.
Assorted Chocolate gift box
Chocolates are always the most warmly gifts for any woman. Surprise her with a box of assorted chocolate and she will forever be grateful. And remember, the darker the chocolate, the better.
Jewellery tree stand
Every woman values her jewellery. So, why not to amaze her with an elegant jewellery tree stand and organizer? It has reasonable space for displaying and organizing her beautiful necklaces, wrist watches, bracelets, earrings, rings and so much more.
Iconic kitchen set
If your woman loves cooking or whose kitchen needs upgrading, get her a set of iconic kitchen set for her next culinary masterpiece.
Evening gown
If you both have a special dinner event to attend and she's worried about what to wear, why not gift her fabulous evening gown and watch her turn heads at that event.
Designer leather belt
Does your woman love dressing up or down with belts? If she has just one or two which she wears constantly, consider getting her another one, preferably a designer leather belt.