Office Fashion: Smart And Stylish Dressing Tips For Men
Whatever the organisation you work in, you are expected to dress appropriately. And if there is a dress code, you should be familiar with it and abide accordingly.
Many organisations expect their employees to dress well and smart. However, dressing well does not mean wearing expensive or designer suits but to dress suitably in line with the organisation's culture. Nevertheless, the real parameters to determine the right kind of outfit are your confidence and comfort in your sartorial.
Below are tips for dressing smart and stylish to the office for men.
Trouser fit
Men need to take care of the fit of their trouser. It is suitable to wear slim fit or flat-front trousers in solid colours such as black, grey, blue and brown as they look more appropriate for the workplace. Your figure is what gives your trouser fit. Hence, while some men may opt for a more flattering fit, others may prefer a more relaxed or even loose fit. The choice is yours, just ensure you're comfortable.
Shirt
For the office, your shirt should not be too tight. You shouldn't wear loud colours or patterns that are too bold to the office as subtle colours look good for the office. Although plain shirts are always in style, you can also opt for shirts in stripes or checks. Avoid wearing short sleeves to work, long sleeves shirts look professional. Also, ensure that your sleeves touch the base of your hand. And do not roll up sleeves at work. Also, you should be able to button your shirt properly without any gaps. Shirts should be clean, wrinkle-free and ironed.
Pick colours sensibly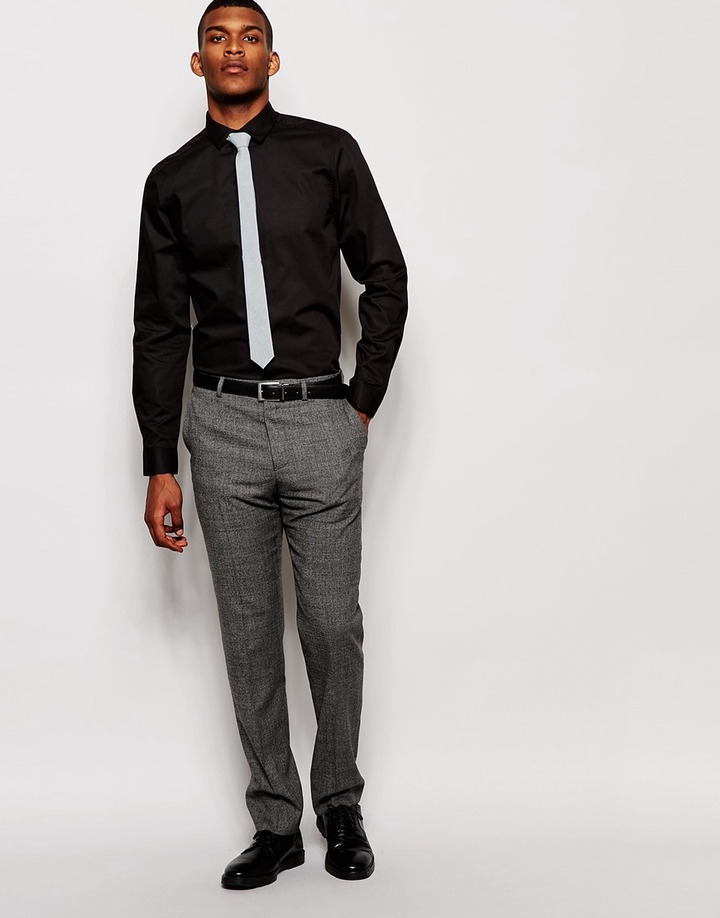 You should pick and wear colours that make you feel good about yourself always at the office. Have it at the back of your mind that all colours have certain emotions or perceptions associated with them. Subconsciously or consciously they affect how we behave and how others interact with us. So, you should pick from a palette of colours you usually gravitate towards. Many men gravitate towards the colours blue, white, black, grey and brown. These subtle colours look good in offices.
Choice of fabric matters
Donning outfits in fabrics that looks shabby or worn out can have a negative impact on the impression you are trying to make at the office. So, try to pick fabrics such as cotton that retains its shape when ironed and would not crease easily or at least end up looking shabby.
Opt for fabrics that make you feel good about yourself and also increase your confidence level and make you appear smart and relaxed.
Combine the right variety
Picking and combining the right outfit is all about mixing and matching elements that look good and make you feel great about yourself. You should look smart when going to the office and project the best version of yourself in terms of confidence and reliability. For instance, wearing a crisp white shirt teamed with a black well-fit trouser can give you that desired professional look at the office.
Accessorize smartly
The kind of accessories you use such as cufflinks, wristwatch, jewellery and ties says a lot about your personality. Your tie should complement your overall look. And the tip of your tie should touch your belt buckles. Wear leather belts in dark colours preferably black or brown. And belts and shoes should match or at least complement well.
Shoes and socks
Your shoes should be properly polished. Shoes should be the same colour as your belt at all times as it is the basic rule of formal wear. Then, your socks, on the other hand, should match the colour of your trousers.
Be properly groomed
Even a perfect outfit can end up looking shabby if you don't pay attention to these details. Ensure your hair is neatly cut or combed for a professional look. Your beards should also be neatly trimmed. Then, avoid wearing strong cologne or perfume at work.